The dashcam's Wi-Fi SSID and password can be changed using on of the following methods.
Change Wi-Fi SSID and password over the Cloud #
1. Login to the BlackVue app.
2. Select Cloud.
Note
•  You can access FW settings Over the Cloud only when the dashcam is ON and connected to the internet (Cloud). A blue colored icon means the dashcam is connected to the Cloud while a grey colored icon means that the dashcam is not connected to the Cloud.
3. Tap next to your camera name and select Settings > Firmware > Wi-Fi > Login credentials. You can change the camera's SSID and Wi-Fi login password.
4. Go back to the Firmware settings menu, tap and tap Save.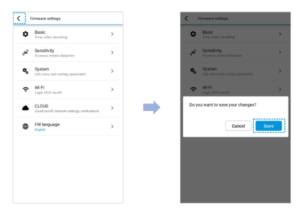 Change the Wi-Fi password using BlackVue Viewer (Windows/macOS) #
1. Remove the microSD card from the dashcam.
2. Insert the card into the microSD card reader and connect it to a computer.
3. Launch BlackVue Viewer.
*You can download BlackVue Viewer from www.blackvue.com > Support > Downloads and install it on your computer.
4. In BlackVue Viewer click on the
Settings button to open the BlackVue settings panel.
5. Click the Firmware tab, then the Wi-Fi tab and under Login credentials change the password.
6. Click Save and close.