Playing videos on the BlackVue Web Viewer #
To experience the camera features in the Web Viewer, you must create an account and your dashcam must be connected to the Cloud. For this setup, it is recommended to download the BlackVue app and follow the instructions including optional steps in Connecting your dashcam to BlackVue app prior to accessing the Web Viewer.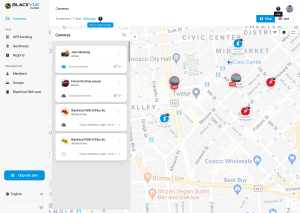 1. Go to www.blackvuecloud.com to access BlackVue Web Viewer.
2. Select Start Web Viewer. Enter the login information if you have an account, otherwise press Sign up and follow the guidelines in the Web Viewer.
3. To play video files after login, select your camera in the camera list and press Playback. If you have not already added your camera, press Add camera and follow the guidelines in the Web Viewer.
4. Select the video you want to play from the video list.
Note
•  For more information about using BlackVue Web Viewer, please refer to the BlackVue Web manual from https://cloudmanual.blackvue.com.