The following diagrams explain each part of the BlackVue dashcam.
Front camera #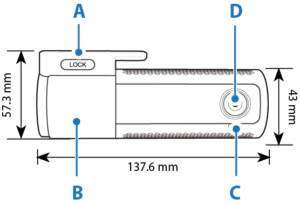 A) Lock button
B) Mounting bracket
C) Front security LED:

 : Lights on during normal mode, time-lapse parking mode and time-lapse recording, motion detection standby in parking mode.

: Blinks slowly when Standby recoding (i) in Normal, Manual, Event mode (ii) and time-lapse/motion in parking mode
D)  Camera lens
A) Bluetooth/ Wi-Fi/ LTE  LED:

 : Lights yellow when LTE is connected.

: Blinks Yellow i) slowly when Bluetooth is paired or, ii) quickly when Bluetooth is pairing mode.

: Lights White when Wi-Fi is connected.

 : Blinks White i) slowly when it trying to connect to Wi-Fi or, ii) quickly when LTE/Wi-Fi is turning off.
B) Recording LED:

 : Lights Orange in Normal mode.

: Blinks Orange in standby recoding.

 : Lights Red in Manual and Event mode.

 : Lights Green in Time-lapse and motion in parking mode.
C) GPS LED

: Lights orange in normal mode.
D) Speaker
A) Proximity Sensor LED:

: Lights when proximity sensor is triggered.
B) Proximity Sensor:
Touch or wave a finger within 20mm of the sensor to trigger a customizable function.
• Available options:
– Turn on/off audio recording (default)
– Manual recording trigger
– Off
A) Format button
B) Rear camera connection port
C) Wi-Fi button: Press once to turn on/off Wi-Fi.
D) MicroSD card slot
E) Cover
F) DC in (power connector)
Removing and inserting the front camera #
A) Connectivity details label: Default Wi-Fi SSID / Default Wi-Fi password / Cloud code / QR code
B) SIM card slot
• To remove the dashcam from its bracket, press the LOCK button and pull the dashcam out of the mounting bracket.
• To insert the dashcam into its bracket, push the dashcam into the mounting bracket until it "clicks" in.
Interior/DMS camera
#
A) Mounting bracket
B) Indicator LED
: Light Blue in Calibration

 : Light Green in Normal mode

: When DMS event detecte, Light Red is turned on
C) IR LED (Inside)
D) Camera lens (Inside)
A) Turn on/off audio beep
B) Push botton
C) Front camera connection port
D) DC in